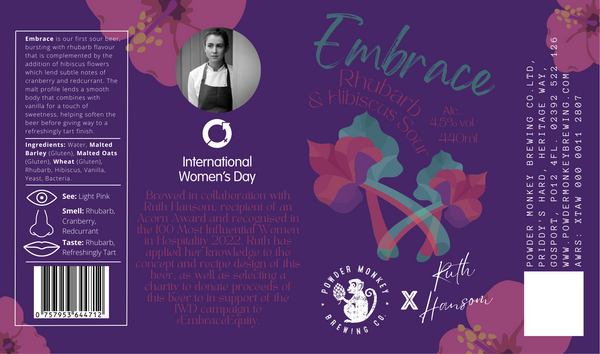 Embrace - Rhubarb & Hibiscus Sour - IWD Collab X Ruth Hansom - 440ml
Alc. 4.5% vol

Tasting Notes:
Embrace is our first sour beer, bursting with rhubarb flavour that is complemented by the addition of hibiscus flowers which lend subtle notes of cranberry and redcurrant. The malt profile lends a smooth body that combines with vanilla for a touch of sweetness, helping soften the beer before giving way to a refreshingly tart finish.
Ingredients: 
Ingredients: Water, Malted Barley (Gluten), Malted Oats (Gluten), Wheat (Gluten), Rhubarb, Hibiscus, Vanilla, Yeast, Bacteria.
See: Light Pink 
Smell: 
Rhubarb,
Cranberry, Redcurrant
Taste: 
Rhubarb, Refreshingly Tart
Use these testimonials to share what customers are saying about your products and your brand.
Customer name